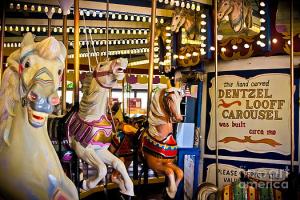 "Dentzel Looff Antique Carousel" by Photographer, Colleen Kammerer, will be featured in the upcoming book, "The Jersey Shore: A History of its Past, Present and Future." The book is about the history of New Jersey's beach communities.

"I am so excited for my image of the Dentzel Looff Carousel to be included as part of The Jersey Shore book!! It will be one of 40 photographs and illustrations from various artists, that will represent New Jersey. What an honor!!"

About the photograph: This particular Dentzel Looff Carousel is amazing. It is one of only approximately 150 vintage carousels still in operation in the United States. It has quite an interesting history. It has survived several moves, a fire, hurricanes, and so far has escaped being auctioned off! Throughout it's years the carousel has picked up a variety of animals from several different carvers. And so, this unique carousel presents the works of master carvers William Dentzel, Marcus Illions, Charles...